artists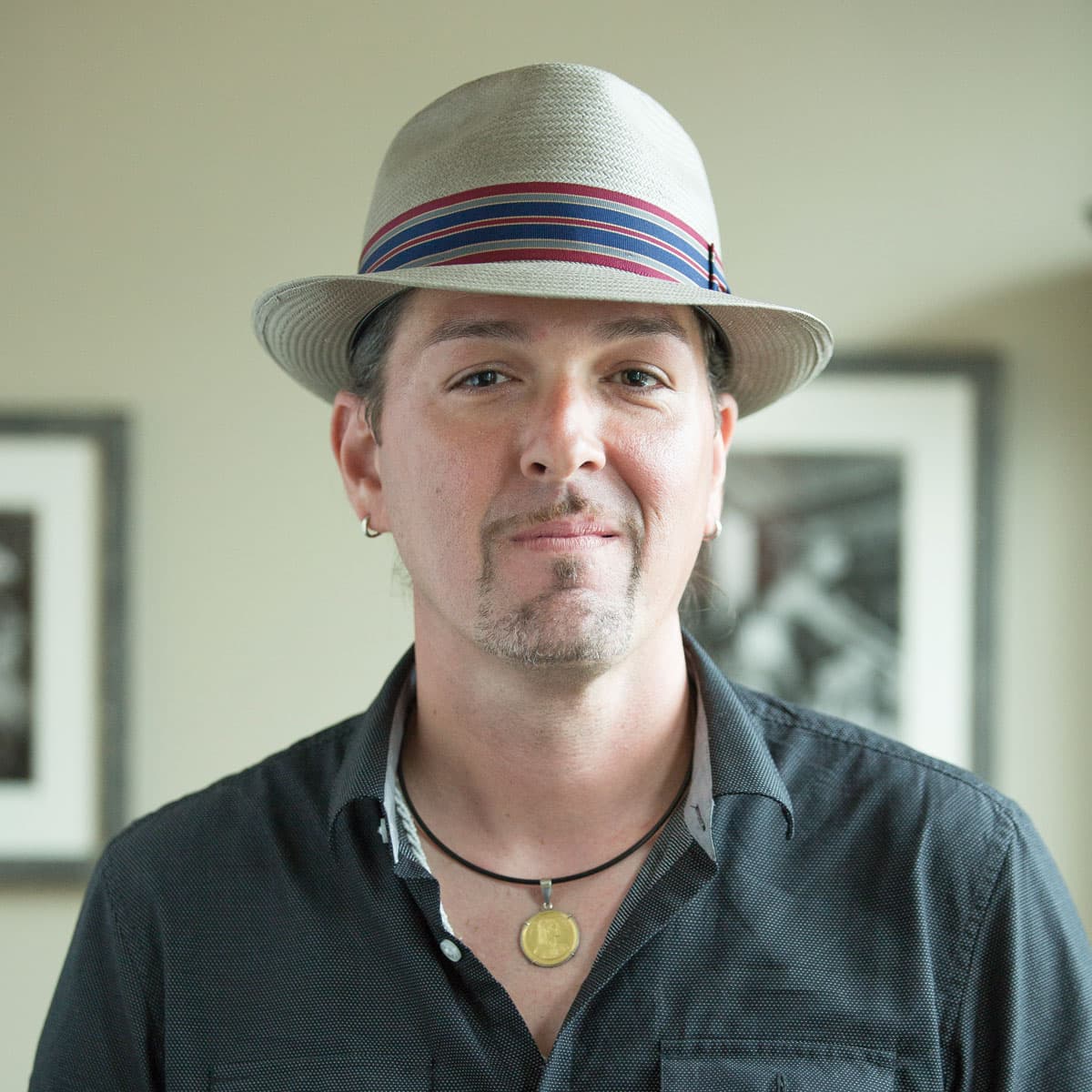 jorge diaz ortiz
Jorge co-founded AgitArte in 1997 and is Co-Director; he is also editor of the book When We Fight, We Win! He is a puppeteer, dj, popular educator, and bicultural organizer with over 20 years of experience. Jorge is deeply committed to working class struggles against oppressive systems, namely colonialism, patriarchy, white supremacy, and capitalism. He is a founding member of Papel Machete, a collective of radical artists and street theater/puppetry workers dedicated to education, agitation, and solidarity work in 21st-century Puerto Rico and its diaspora. Tough decisions are made collectively, Jorge's razor-sharp political analysis and understanding guide much of AgitArte's work. He also provides political and ideological mentorship to the team. Jorge received his BA in Mass Communication from Emerson College in Boston, MA. He strives to be a rigorous, organic intellectual and is currently based in his hometown of Santurce, PR.
IG: @canocangrejo
sugeily rodriguez lebron
Sugeily (Su) is Co-Director of AgitArte, a member of Papel Machete, and a performance artist, puppeteer, and visual artist. Su is a force and key cultural organizer on the ground in Puerto Rico as coordinator of Casa Taller Cangrejera, AgitArte's cultural organizing space. She is a committee member of Titeretada, an annual event that celebrates puppetry. With Deborah Hunt she ran Teatro Estudio Yerbabruja until 2011. She was Program Coordinator for the Festival Casals de Puerto Rico and Festival Interamericano de las Artes in the Corporation of Musical Arts for over a decade. After Hurricane María hit, Su played a significant role in organizing and distributing aid and food and coordinated with Papel Machete and other artists' art workshops and performances with the Centros de Apoyo Mutuo (CAMs). She received her BA in History from the University of Puerto Rico. Su is from Gurabo and is currently based in Santurce, PR.
IG: @sugeilyrodriguez.lebron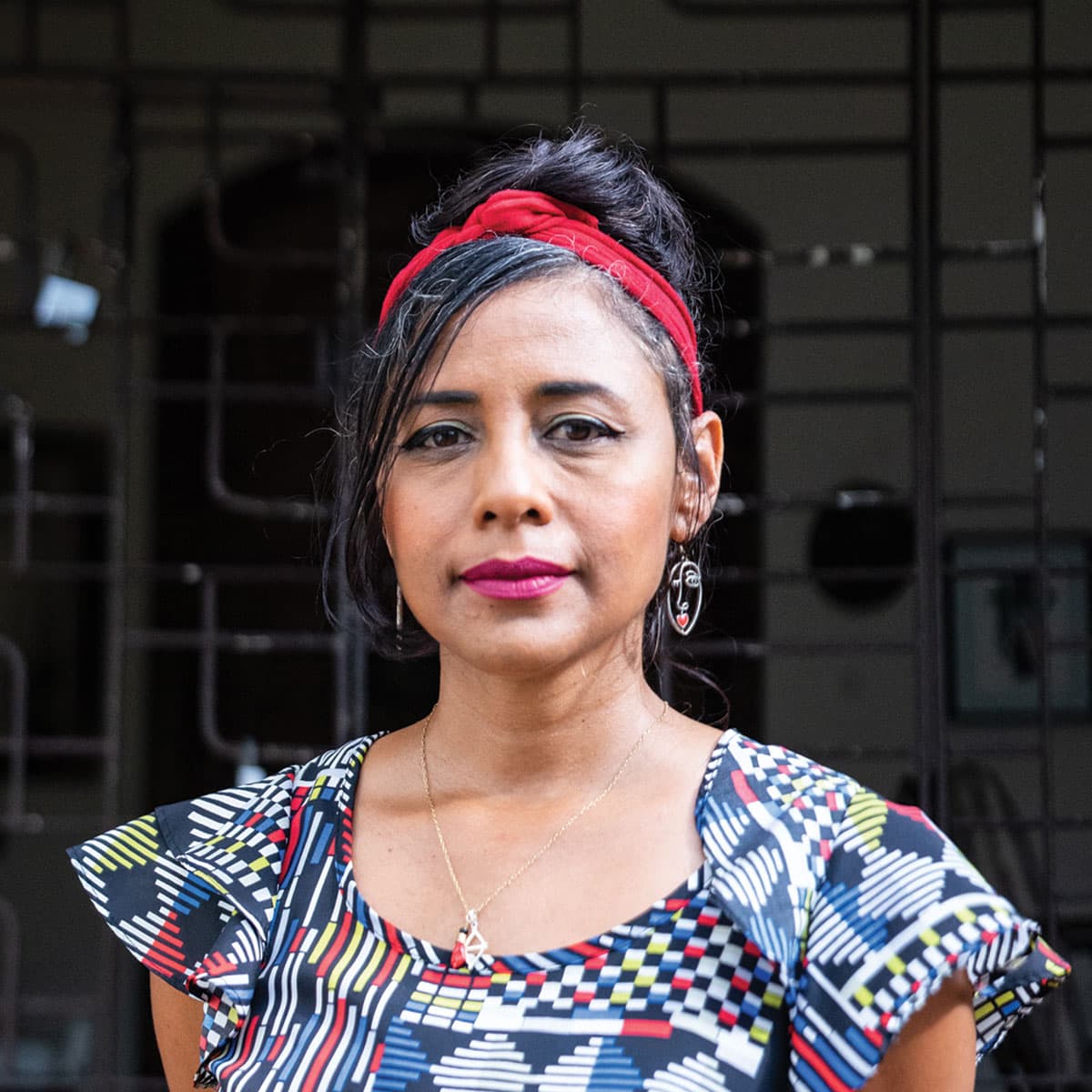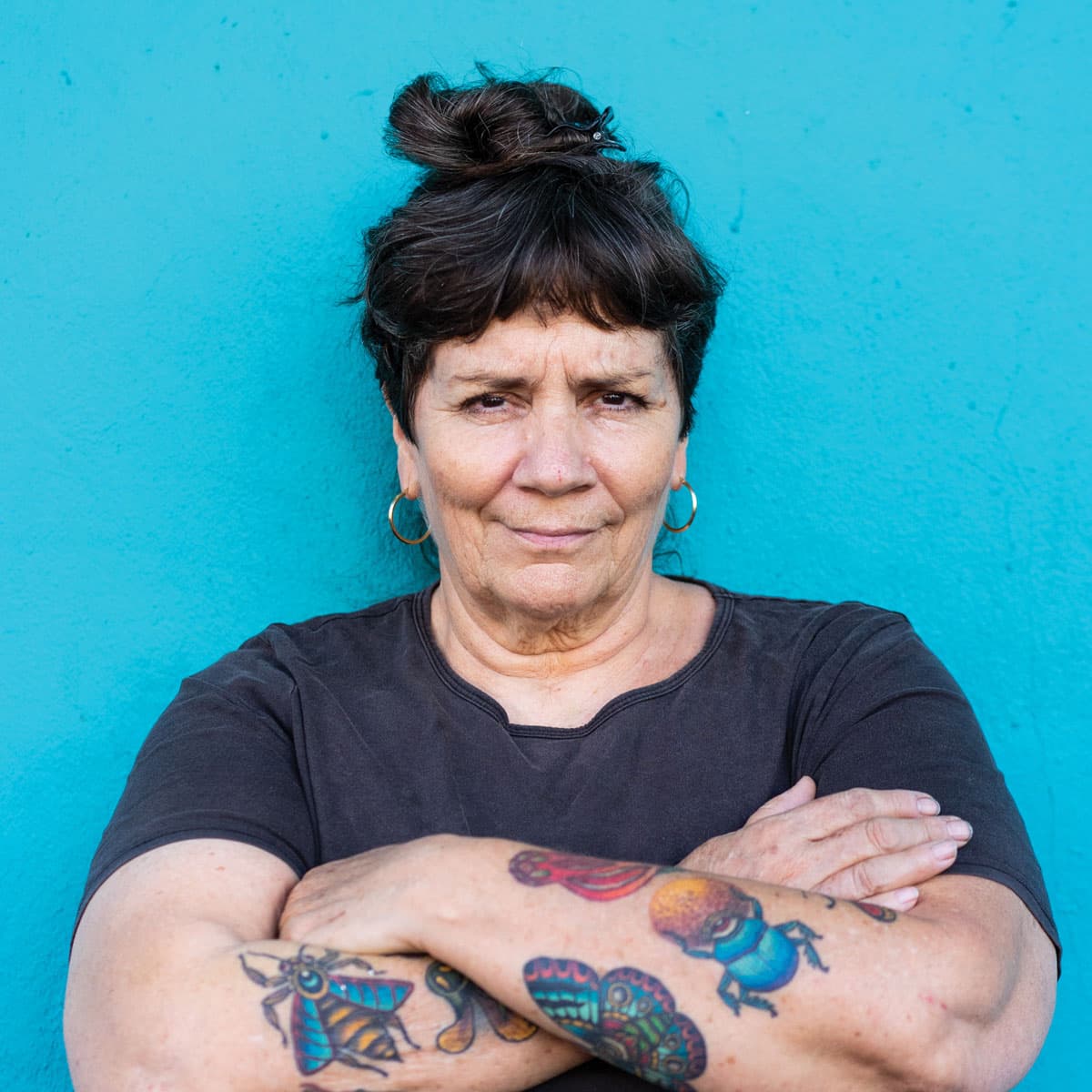 deborah hunt
Deborah is the founder of Maskhunt Motions, a nomadic laboratory for experimental object theatre work. She is a mask maker, masks and object theater performance artist, and creator of miniatures and giants. Deborah facilitates workshops and has collaborated and toured extensively in the Pacific, the Americas, Europe, the Middle East, and Asia. She was born in New Zealand and has resided in Puerto Rico since 1990. "Since 1972, I have worked as a cultural practitioner, creating and presenting original theatre works and performances and working with communities in festivals or encounters worldwide. My practice is focused on and explores animated forms in public /private spaces. I am interested in performing in unconventional places and to audiences that do not necessarily go to theatres."
Deborah has published the original manuals for mask and puppet construction: Masks and Mask Faces and Puppets, Puppetry, and Gogmagog.
IG: @maskhunt
carlos 'gandul' torres lopez
Carlos 'Gandúl' Torres Lopez is the artistic Co-director of "Y No Había Luz", a theater company founded in 2005 in Puerto Rico that provides communities a firsthand experience with visual and scenic arts through workshops, theater, and other cultural offerings. Its mission is to offer interdisciplinary artistic experiences that awake sensibility, beauty, creativity, social conscience, and solidarity in public. Carlos has a bachelor's degree in dance theater from the University of Puerto Rico. For the past 10+ years, he has danced with Hincapié, a university group directed by Petra Bravo dedicated to contemporary dance. Carlos has worked performing and creating masks and puppets with the great mask maker, puppets creator, and performer, Deborah Hunt. He understands that joining efforts, making bridges, building partnerships, and fostering community are ways that will make our world and Puerto Rico a better place to be. To that, he has dedicated the last 16 years of his life.
IG: @bravo_guayubin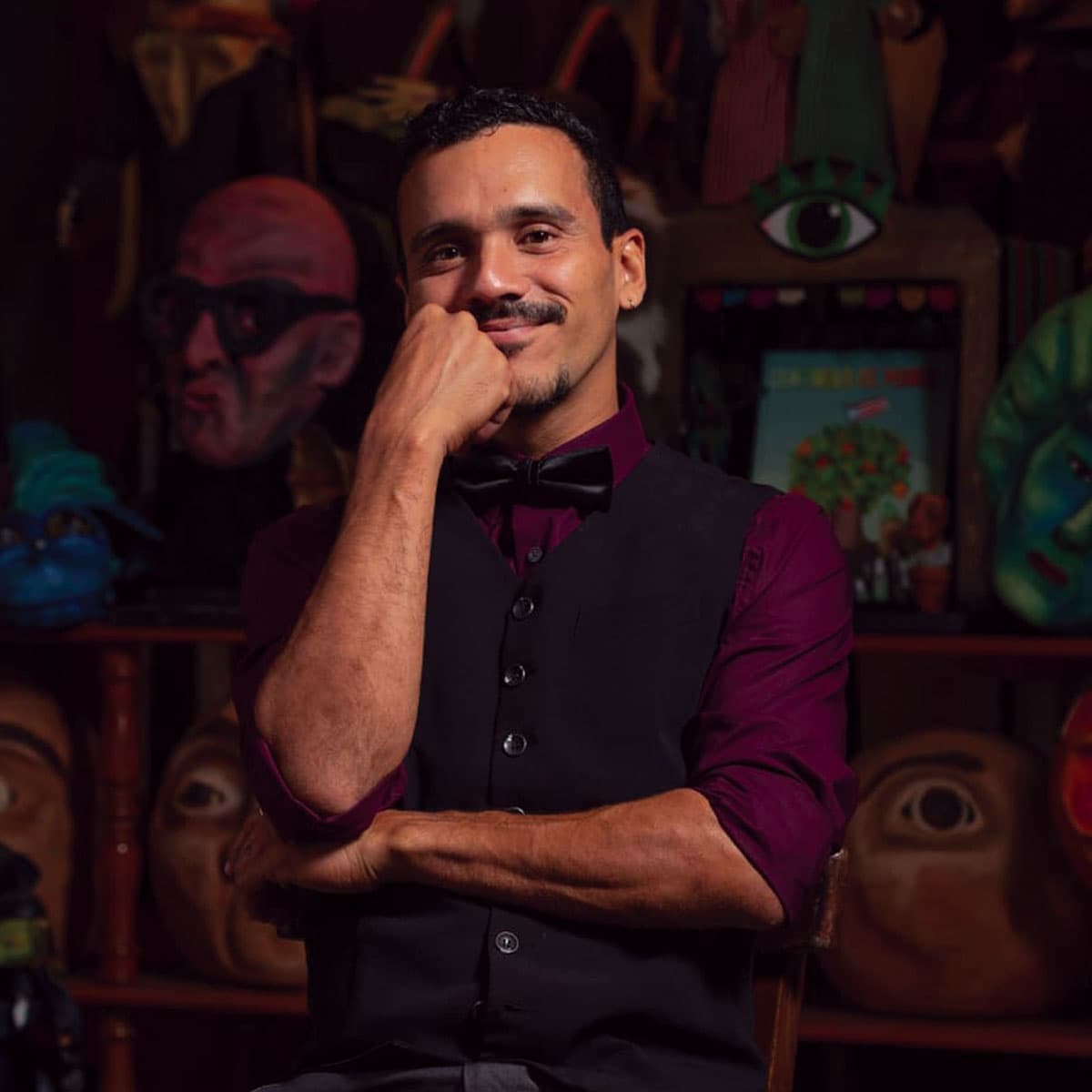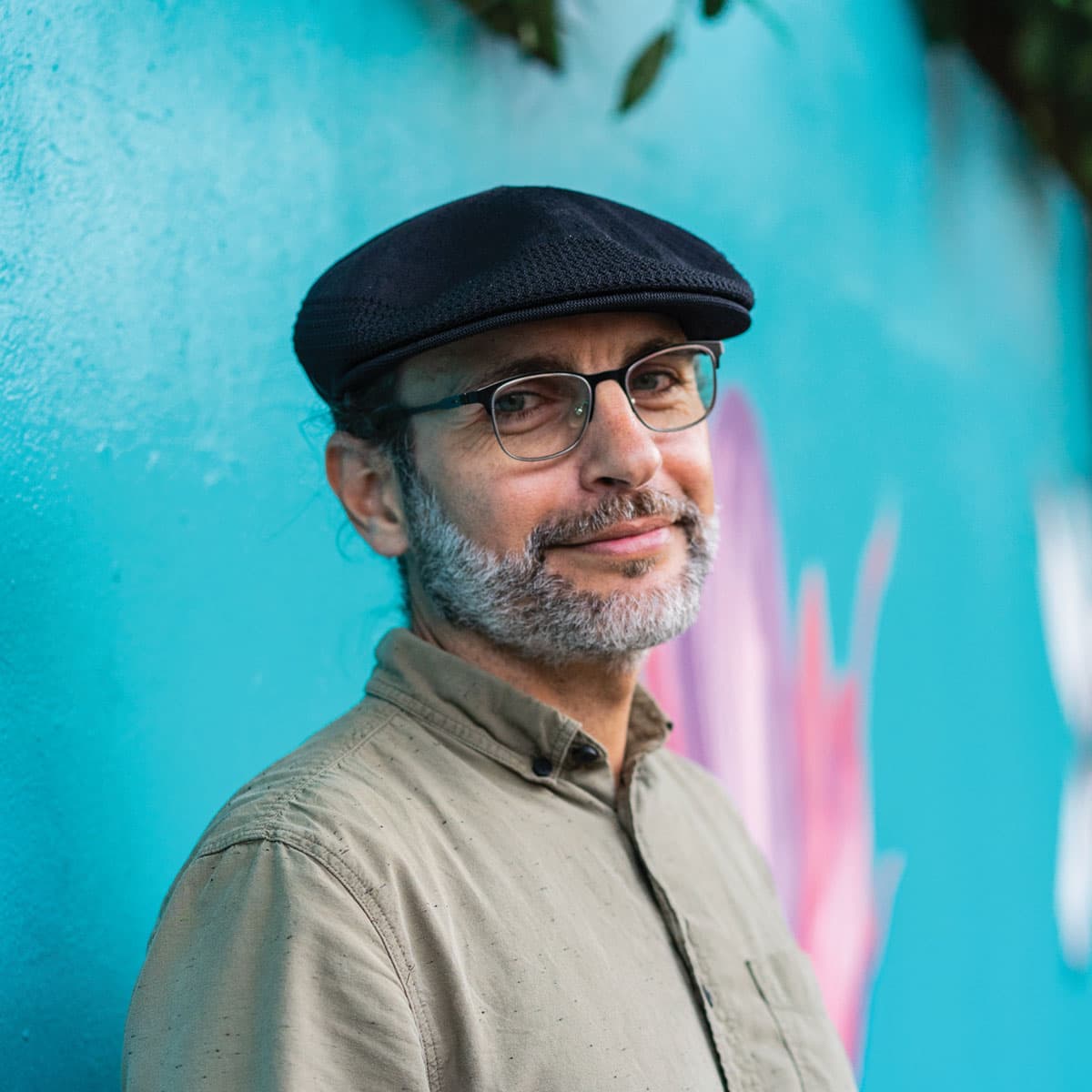 jose hernandez diaz
José is AgitArte's Visual Art Director and leads Datos y Dibujos, a critical project that facilitates rapid cultural response with powerful imagery and political analysis. He has illustrated several award-winning YA novels including Ediciones SM Barco de Vapor's Antrópolis and ICP's Consultores de Misterios. In addition to creating much of AgitArte's visual artwork in the last decade, José created the branding and design with Dey Hernández for the When We Fight, We Win! book and podcast and for the annual Titeretada Festival in Puerto Rico with Javier Maldonado. José is also a puppeteer and has performed in several of Papel Machete's original pieces. Most recently, his illustration work was highlighted in AgitArte's social media campaign, #DefiendeLaEducaciónPública, to support the struggle for public education and the campaign, which marks the 2nd Anniversary of Hurricane María. Jose received his BFA in Illustration from the Rhode Island School of Design. He is based in Santurce, PR.
IG: @primo_agitarte
dey hernandez vazquez
Deymirie (Dey) is a bicultural worker, interdisciplinary artista, permaculturist, educator, and designer. Ella is a member of Papel Machete and curator, co-producer, and Director of the book and podcast, When We Fight, We Win! Their work centers on collaborative projects and practices like the End the Debt! Decolonize! Liberate Puerto Rico! Scroll project and the cantastoria, If All Lives Matter Cause We Are All Created Equal, Why Are Some Lives More Equal Than Others? with Brooklyn-based quilter Sylvia Hernández. Ella is a Board Member of AgitArte and has designed and directed art workshops and projects with the organization since 2008. In a myriad of formats, Dey creates counter-hegemonic narratives throughout their work while finding joy in the ordinary. Ella received a master of architecture degree from the University of Puerto Rico and is a movement artist with Danza Orgánica, a social justice dance theater company in Boston, MA.
IG: @arkitectita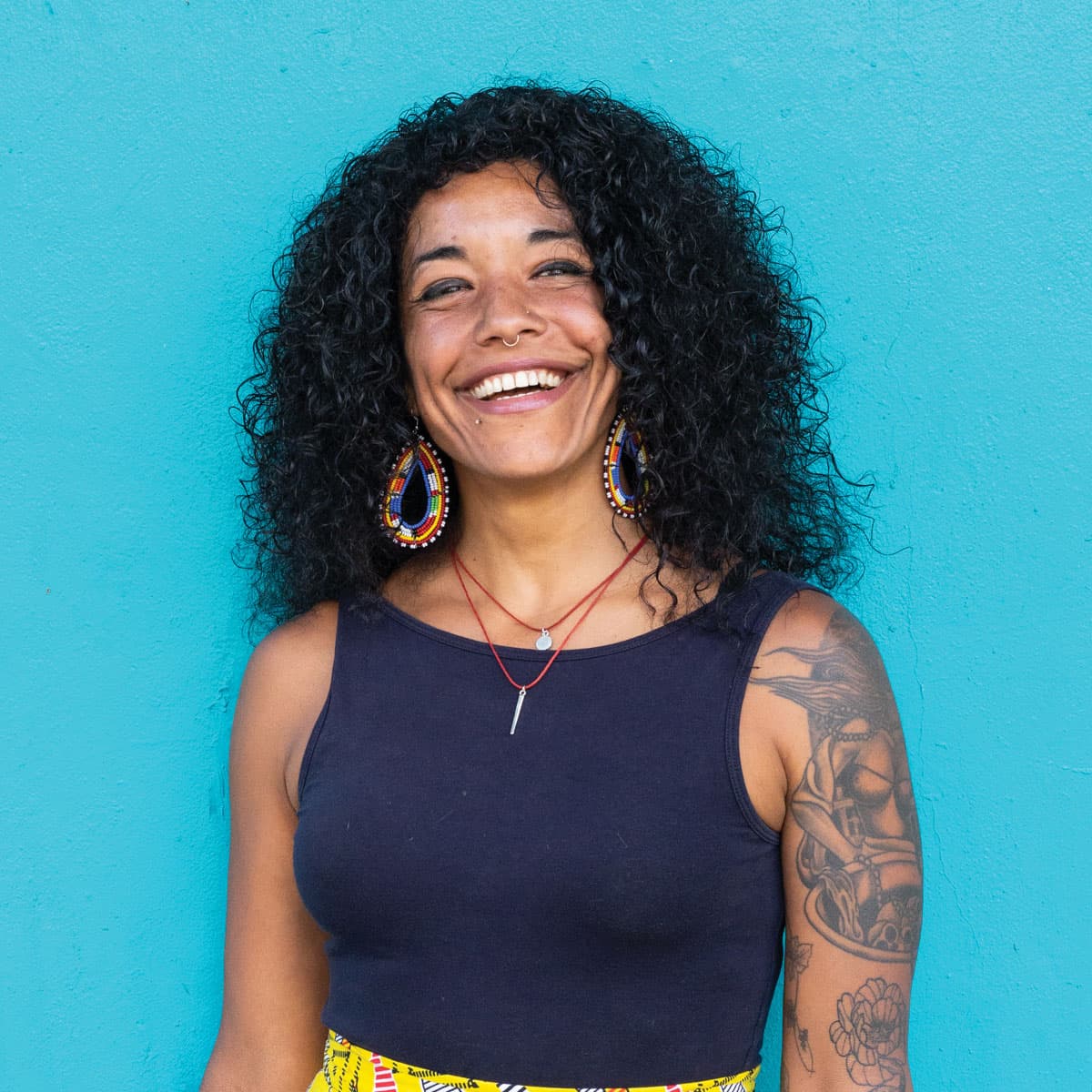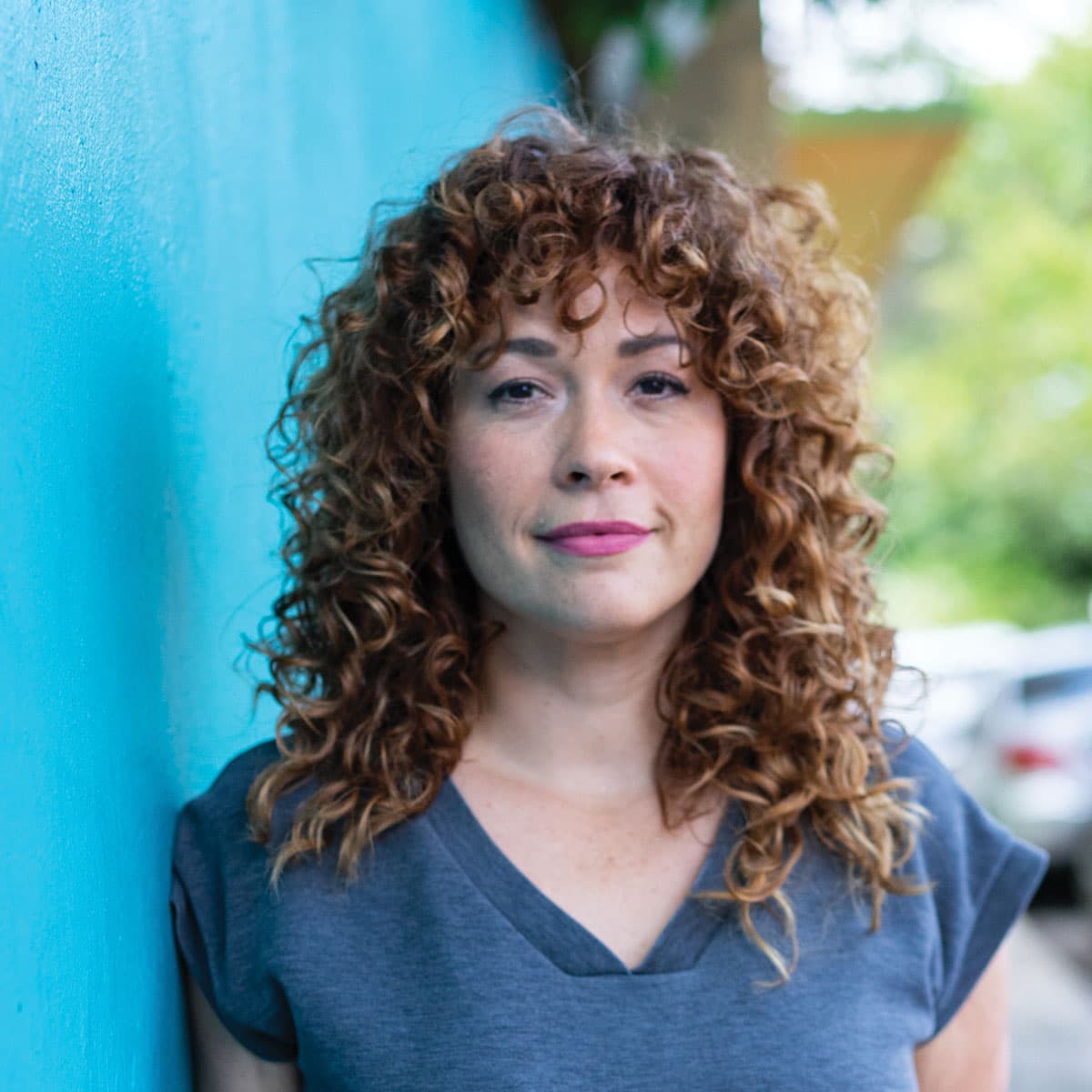 marian annette rodriguez morales
Marian Annette Rodríguez Morales is an artist, professor and thesis student of the Doctorate in Philosophy in Literature program of the Centro de Estudios Avanzados de Puerto Rico y el Caribe. She achieved B.A. in Fine Arts and Sculpture at the University of Puerto Rico, Río Piedras, and an M.A. in Puerto Rican Studies, History of Art, from CEAPR. For 15 years, she has been part of the collective of puppets and masks, Papel Machete, working as a designer, manufacturer, and performer. She has recently distinguished as a scenographer for plays (Centro de Bellas Artes de Puerto Rico), muralist (Urbe Apie), and Executive Coordinator of the Museum of Saints and National Art. Her most recent body of pictorial work focuses on Caribbean flowers and fruits. In April 2022, she was selected for the Mellon Foundation scholarship as an artist within the program Maniobra of the Centro de Economía Creativa.
IG: @rojo_mandarina
tina orlandini
Tina is a photographer, cultural worker, and AgitArte's Development Director. The intersections of culture, community, and solidarity are central to her work and how she moves through the world. From 2012 to 2016, she worked at El Puente, a community-based youth, arts, and social justice organization in Los Sures (Southside of Williamsburg), Brooklyn. Tina first engaged with AgitArte and Papel Machete through a collaborative exhibition in NYC of artwork and creative strategies produced during the University of Puerto Rico student movement of 2010-2011. In 2018, she co-curated the exhibit When We Fight, We Win! / ¡Cuando luchamos, ganamos! with Dey Hernández. Tina received her BA in art history and writing from Ithaca College and her MA in Art and Public Policy from NYU Tisch School of the Arts, focusing on socially engaged curatorial practice. She is from Altadena, CA, and currently lives in New Orleans, LA, where she continues exploring meaningful cultural work and building community.
IG: @t.orlandini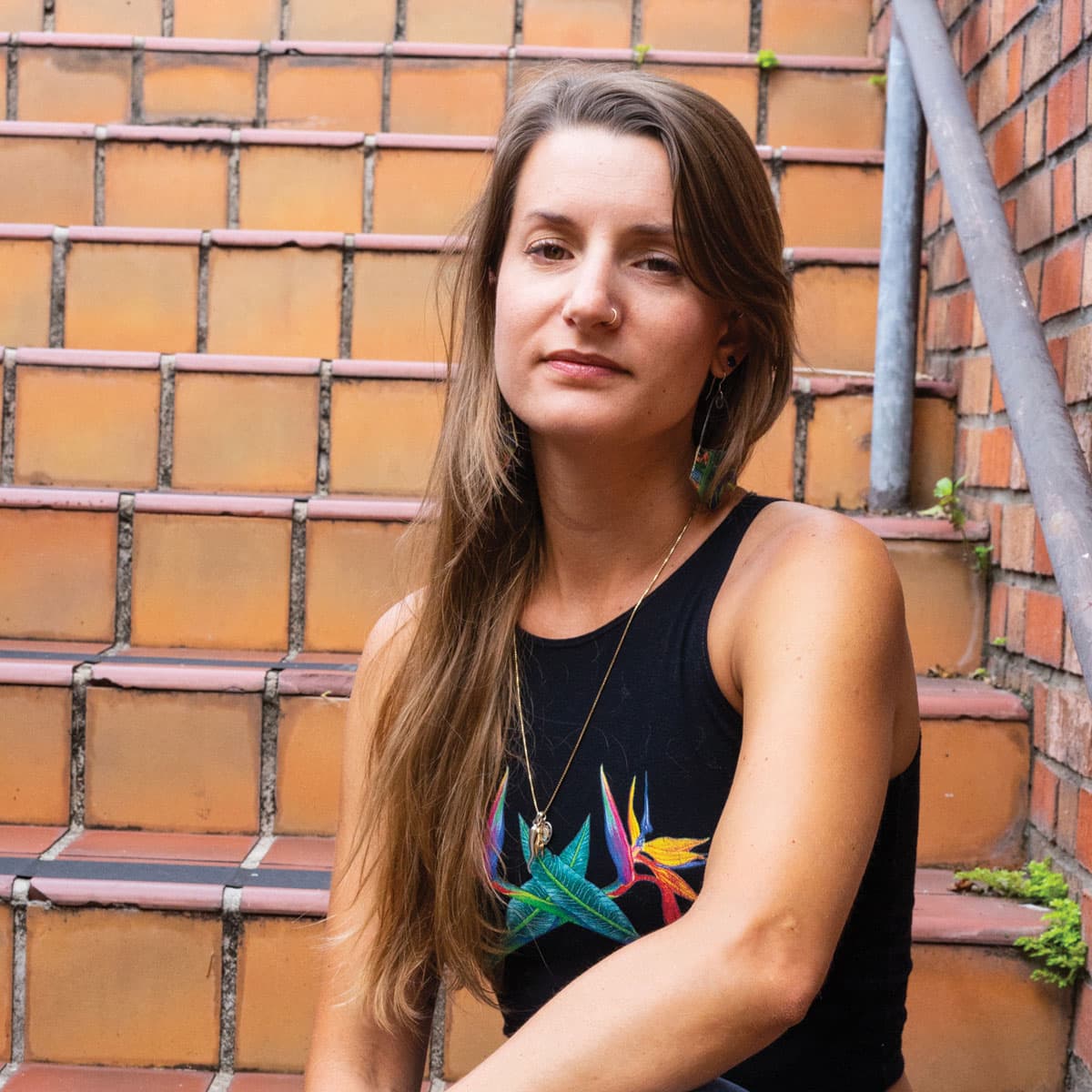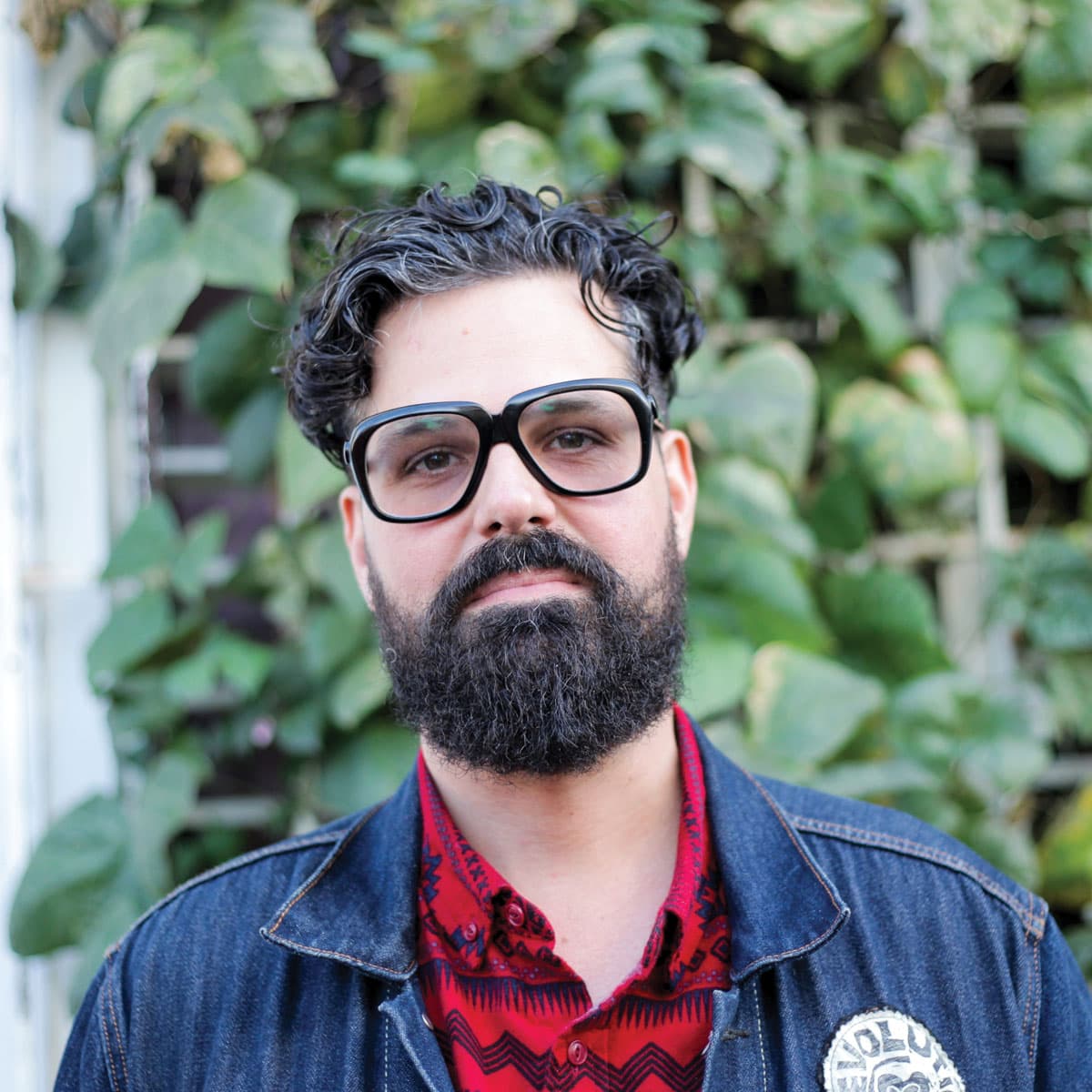 osvaldo budet
Osvaldo Budet is a Puerto Rican artist and graduate of Maryland Institute of College of Art, where he completed his Masters in Fine Arts in painting. His work explores the physical and political dimensions of colonization and post-colonization as a reflection of the culture and the interests of the systems we inhabit. Since 2008 he has been living and working in Berlin, Germany, San Juan, Puerto Rico, NYC, USA, and Australia. He has received numerous awards and residencies, including a fellowship at the Hanse-Wissenschaftskolleg for Advanced Study, Germany, the Leipzig International Art Program, and the Museo del Barrio de Santurce residency. His films have been exhibited internationally and at festivals in San Juan, Tel Aviv, New York, and Berlin. He is a co-producer of When We Fight, We Win!: The Podcast and a contributing artist/videographer to the End the Debt! Decolonize! Liberate Puerto Rico! Scroll.
IG: @osvaldobudet
juan pablo vizcaino
Born in Santurce in 1978 and raised in Loíza, Puerto Rico, Juan Pablo Vizcaíno Cortijo has been interested in his town's arts, music, and traditions since he was a child. He grew up by the river banks of the Río Grande de Loíza and was inspired by its beauty. He also found inspiration in the sea and the rich culture that gave Loíza the name of Puerto Rico's Capital of Tradition. Juan saw the character of "el vejigante", one of Loiza's principal cultural symbols, as a defense of his hometown. He started carving vejigantes in 2006, following the footsteps of the master craftsmen Castor Ayala, Raúl Ayala, Samuel Lind, and Juan Sánchez'. With his Vejigantes masks and art, Juan continues to contribute to his culture in the hope of a better quality of life for all while striving to keep his roots alive. He is currently based in Miami, FL.
IG: @elancondeloiza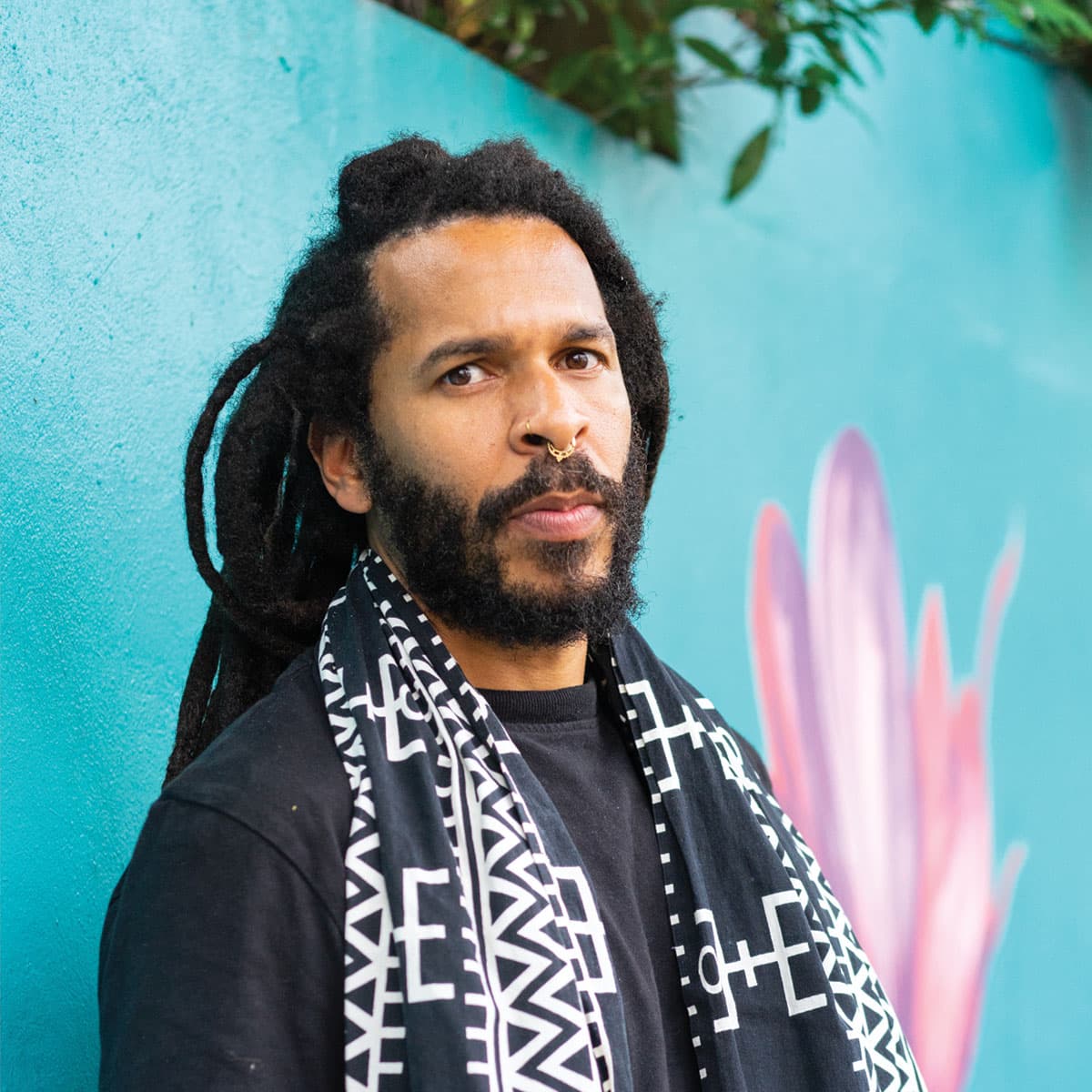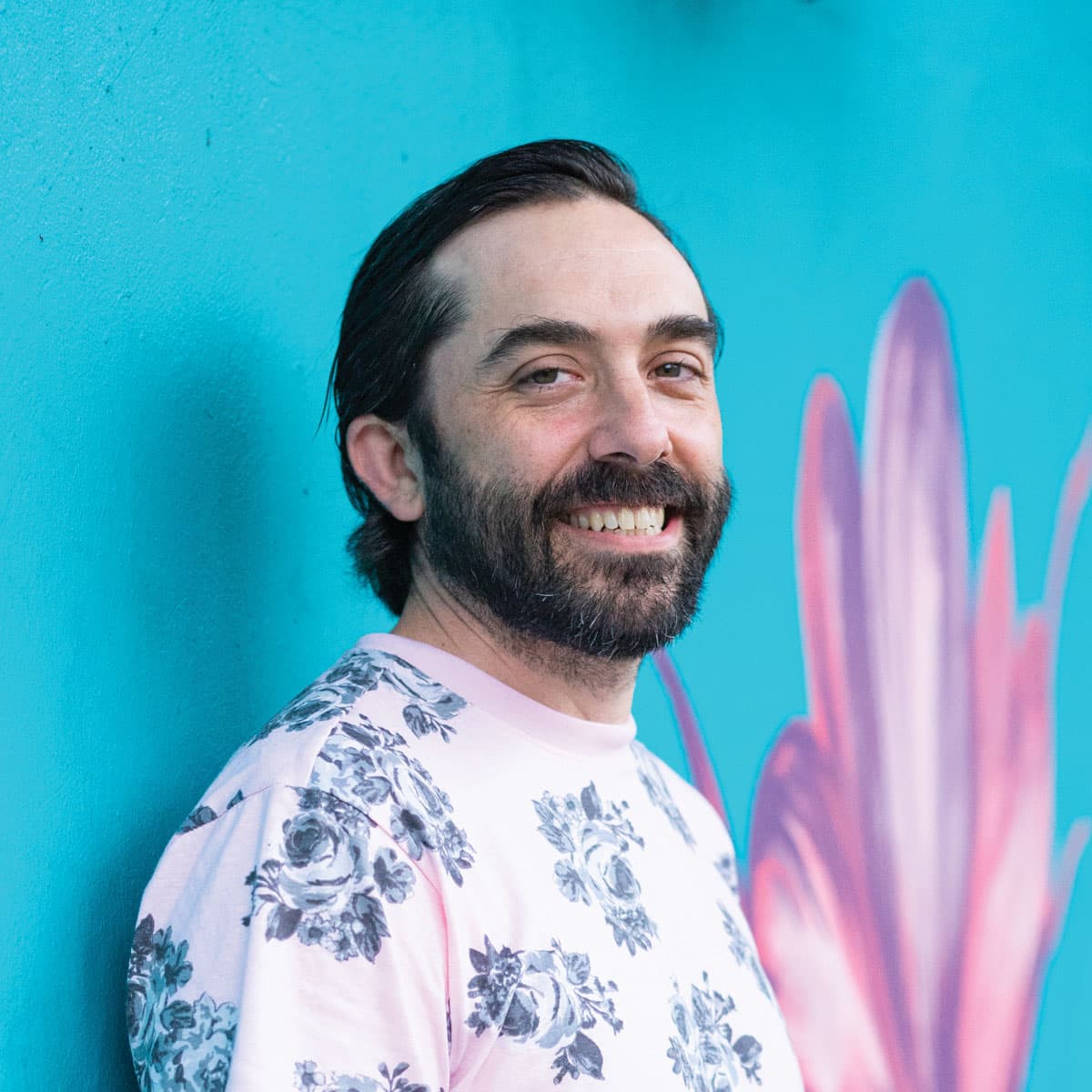 joe therrien
Joseph Therrien has a BFA in Acting, an MFA in the Puppet Arts from the University of Connecticut, and an MS in Childhood Education from PACE. He has taught theater, music, puppetry, and performance full time and as a teaching artist in New York City for the last 12 years. In addition to teaching, Joe works and performs with other theater groups in and around New York City. In 2011, he founded a puppetry collective called "The People's Puppets of Occupy Wall Street," which offers training and support for grassroots community organizations on how to incorporate art and performance into their work. He also works and tours extensively with The Bread and Puppet Theater, performing large-scale political puppet shows worldwide. Joe creates puppet shows of his own and often performs in and around New York City with many collaborators.
IG: joe_yes_yes
peter kamal mukuria ("pitt panther")
Peter Mukuria, better known by his artist name "Pitt Panther," is currently incarcerated at Jessup Correction Institute in Maryland. While imprisoned, he vocalizes the blatant racism in his correctional facility: he has been threatened, not given the haircut service offered to white prisoners, and denied proper facilities such as access to water. He has also been placed in solitary confinement as retaliation for his self-advocacy. Mukuria was born in Nairobi, Kenya, and is currently the Minister of Labor for the Revolutionary Intercommunal Black Panther Party (RIBPP). He is also on the steering committee with the Industrial Workers of the World Incarcerated Workers Organizing Committee (IWW IWOC). Mukuria writes on various topics, from abolition to the COVID-19 pandemic. Mukuria is also a brilliant artist whose work will be featured in The Healing Project's exhibition. He draws and collages with paper, pencils, and materials he can find, given his incarceration.
IG: @pittpanther_art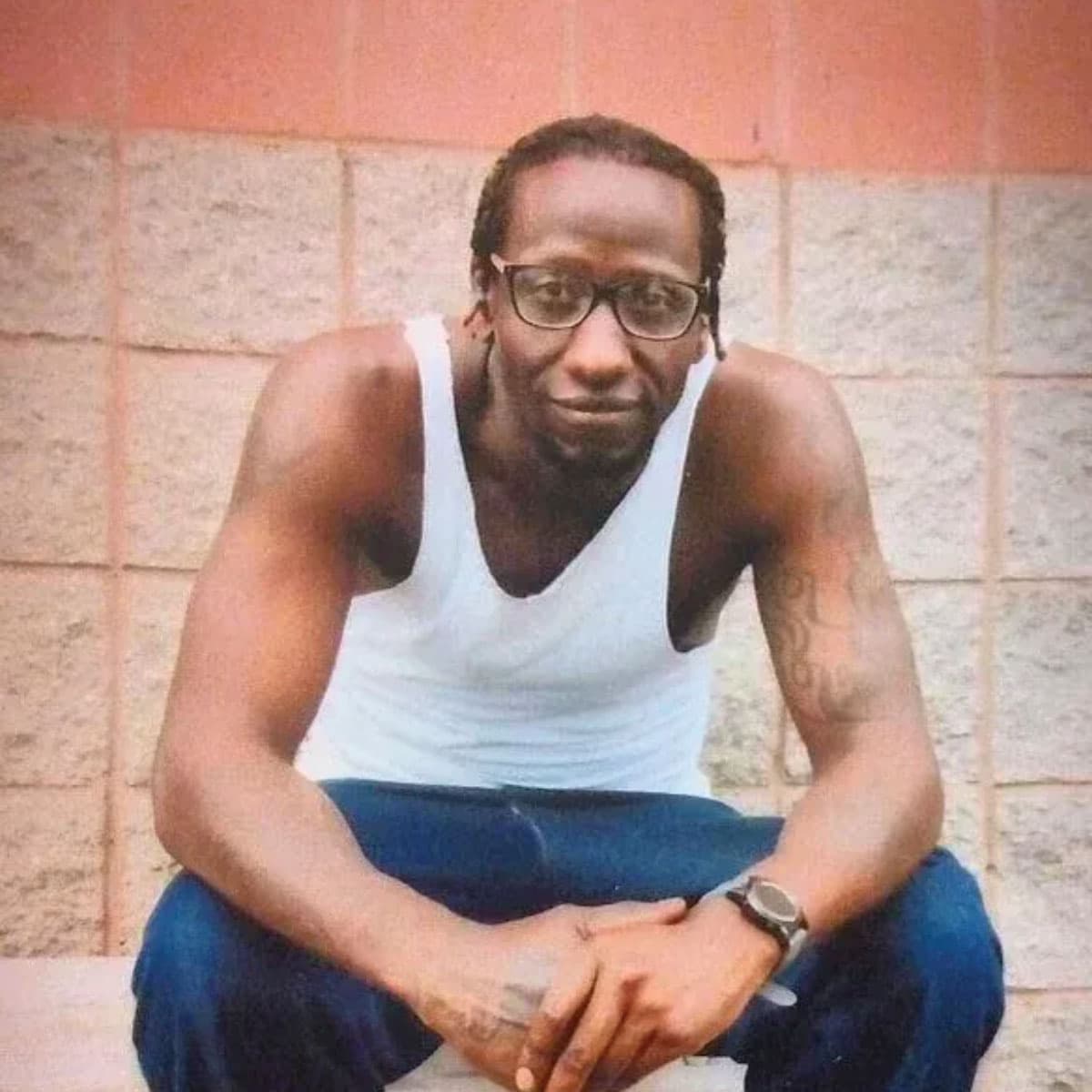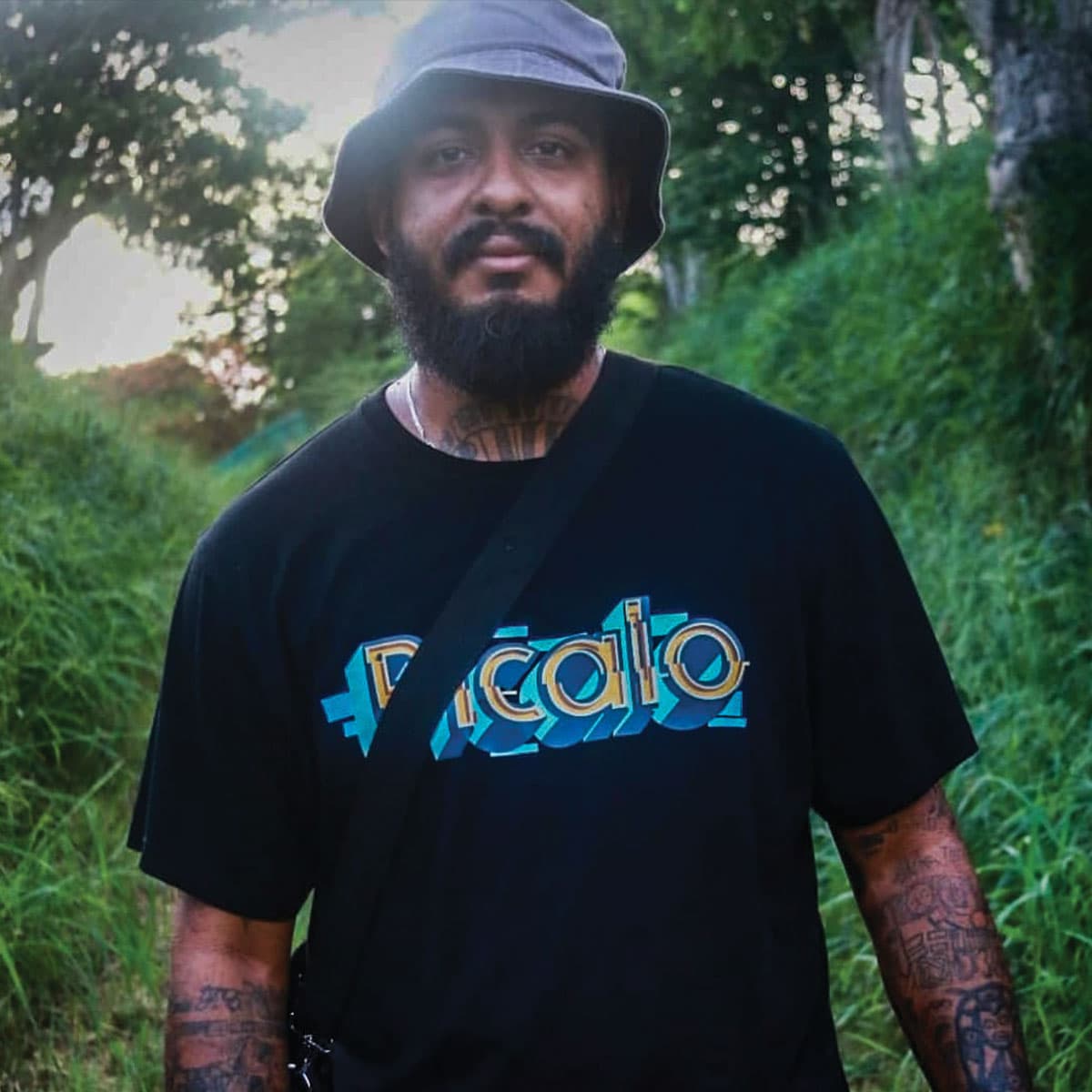 anibal "el s." vidal quintero
Aníbal S. Vidal Quintero, was born in San Juan, P.R. on January 14, 1986 and grew up in Luquillo where his studio, El Guiñapo, is located. Since he was a teenager, he has been part of the independent music scene on the island. Aníbal is the keyboardist of the metal band Infectoria, and the drummer of the band, For Eternity. In 2005, together with Brian Ramirez Vicens (EBRS), he recorded his first rap songs and created the group Convulsiones del Texto (C.D.T.).
He is the pianist and backing vocalist of the El Macabeo Orchestra. He has also played the role of composer, musical producer, and graphic artist under his rap project, in which he calls himself "eL S.". Aníbal has eight productions under his project and many collaborations such as El Hijo de Borikén, in which he synergizes his talents with Emil Martínez-Roldán, "El Hijo de Borikén".
IG: @elsgrams